Product Information
Looking for a sleek and powerful addition to your kitchen? The Decorelex DX518ICTP30 30 inch built-in induction cooktop is perfect for anyone who wants the convenience and performance of induction cooking.
With its smooth glass finish and high-performance induction technology, this cooktop is sure to make a statement in your kitchen. Plus, the easy-to-clean surface and even heat distribution make it a breeze to use. This cooking experience is unparalleled by the gas ranges, gas cooktops and even electric burners. Upgrade your cooking experience today with the Decorelex DX518ICTP30 induction cooktop.
SAFETY IS ALWAYS FIRST.
Do you want an electric cooktop that is both beautiful and safe? The Decorelex DX518ICTP30 induction cooktop is perfect for you! This cooktop features an elegant design and Turns your pan into a heating element without getting hot, making the induction burner safe to use and clean. Plus, when cleaning is done to perfection with just one wipe from some cloth, you'll be able to enjoy dinner in peace knowing everything around will stay clean too!
SUPERIOR PERFORMANCE.
Quick, efficient, and eco-friendly – the Decorelex DX518ICTP30 30″ built-in induction cooktop is perfect for modern cooking. With the latest high-performance induction technology using a magnetic field, this cooktop will heat up your kitchen utensils faster than ever before, boiling water in a fraction of the time. Plus, with reduced energy consumption, you can save money and help the environment at the same time making this electric range a smart decision!
LUXURIOUS, BUT SIMPLE.
The induction cooktop is the perfect addition to any kitchen. It has an elegant appearance and smooth glossy finish that adds a touch of luxury, with its easy-to-use touch sensor controls making it simple for anyone to operate!
The powerful performance ensures delicious results every time too so you can enjoy preparing your favorite dishes in style – no matter what type or size pan they are used on this amazing device will produce excellent food suited just right every single time, turning you into the best home cook around.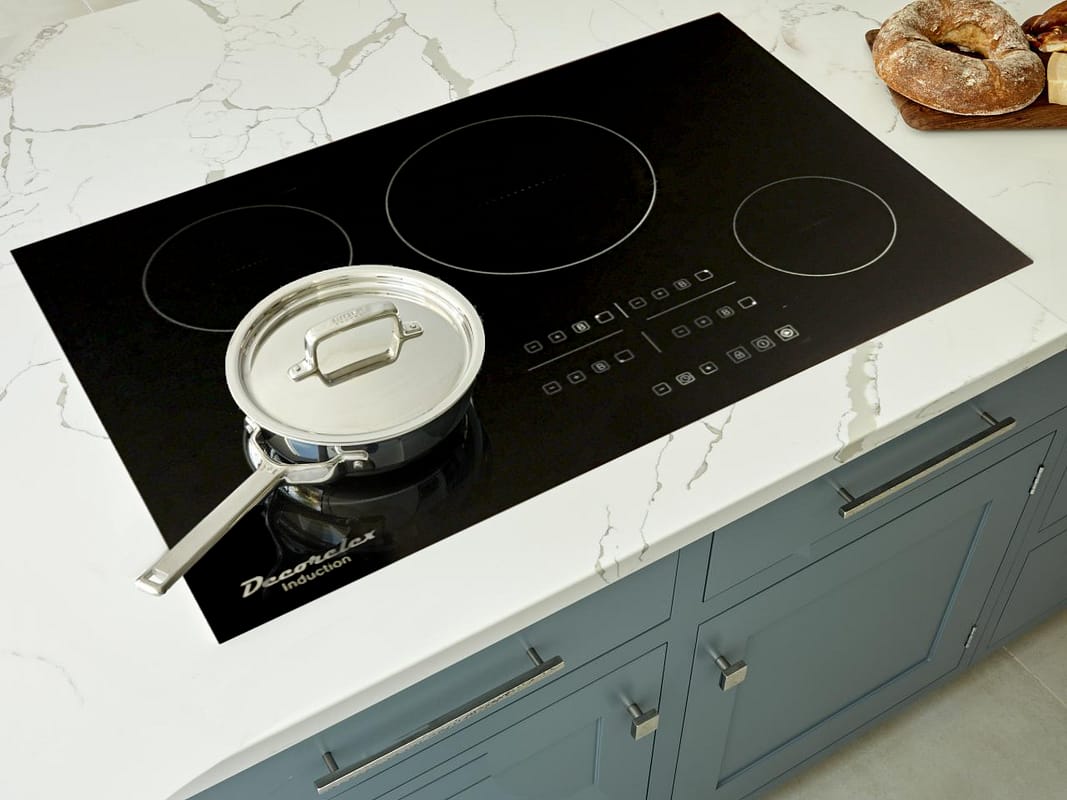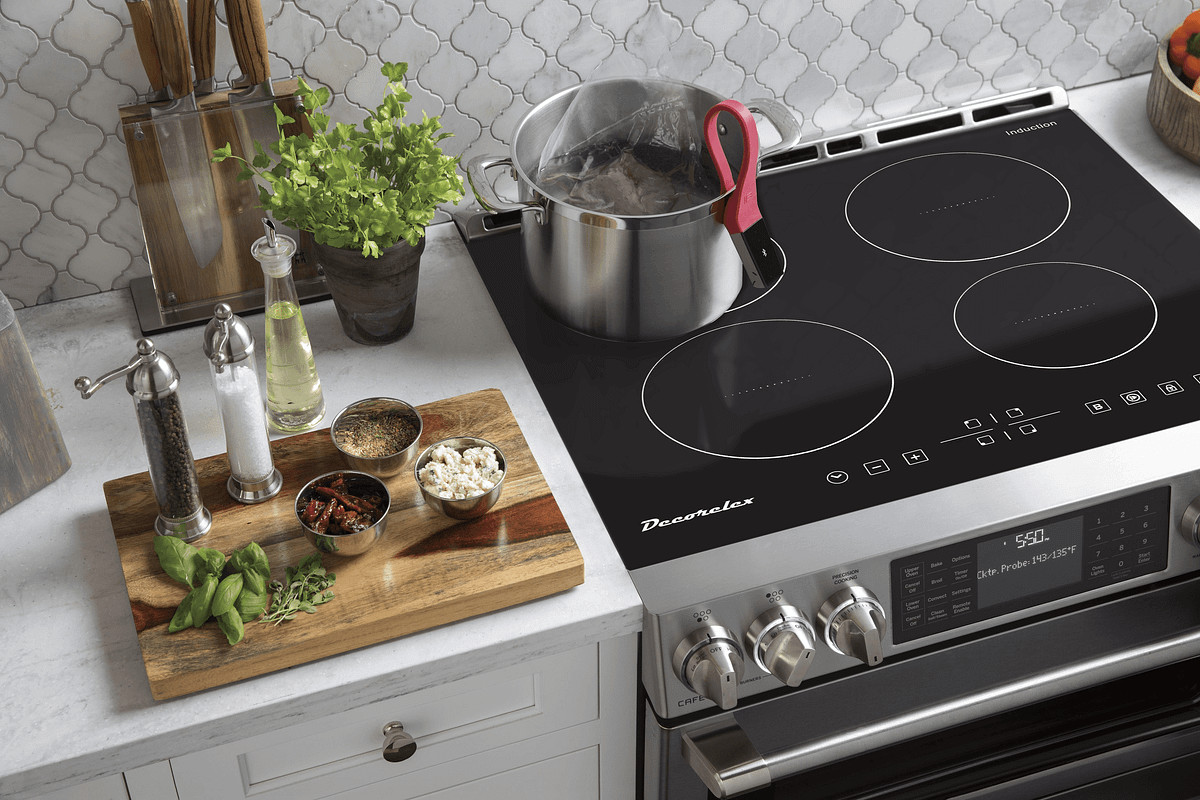 This sleek and easy-to-use induction cooktop is perfect for anyone who wants to upgrade their kitchen without making a big investment. The touch sensor controls are easy to use and keep the surface looking slick, while the powerful heating element makes cooking a breeze. Whether you're a novice cook or an experienced chef, this cooktop has everything you need to create delicious meals in no time.
This cooktop is perfect for those who love to cook! With its four induction heating zones, this cooktop gives you plenty of space to work. The Decorelex induction cooktop is versatile for any kitchen and looks stunning. There are nine cooking heat options to choose from.
With independent timers for each heating zone, it's easy to keep track of your food.
If you're looking for a quick and easy way to cook dinner, then you need the Decorelex Induction cooktop. This powerful cooktop can boil water in just 90 seconds, so you can save time every day. Plus, the 2700W power boost ensures that your food will be cooked evenly and perfectly every time.
This cooktop adjusts the heat from a powerful boil to a gentle simmer instantly, making it perfect for all your cooking needs, with great control over the power settings.
The Decorelex Induction Cooktop is the perfect way to cook your food evenly and without any accidents. The residual heat indicator will let you know when the surface is still hot, so you can avoid any accidental burns. With this cooktop, you'll be able to cook your food perfectly every time.
The DX518ICTP30 includes a delayed auto-shut-off function, you can adjust the timer up to 99 minutes. With complete control of the power settings, this cooktop gives you the peace of mind of a safe appliance, making it a must-have for any busy home.
The Decorelex DX518ICTP30 is a great choice for anyone looking for an induction cooktop with a child lock safety feature. This 30 inch cooktop model has nine power levels, making it perfect for everything from simple meals to elaborate gourmet dishes. With its easy-to-use controls and sleek design, the Decorelex DX518ICTP30 is sure to be a favorite in any kitchen.
Some cooktops are all about finesse – getting the right temperature and cooking time to make your meal just perfect. But sometimes you just need something that's going to get the job done quickly and easily, without any fuss.
That's where induction cooktops come in. The Decorelex DX518ICTP30 30″ Induction Cooktop automatically recognizes the size of your pan and distributes heat evenly across your pots and pans, so there are no hot spots and your food cooks perfectly every time. Whether you're whipping up a quick breakfast or trying out a new steak recipe, this cooktop has you covered.
With a whopping 7,400W power rating, the Decorelex DX518ICTP30 30″ induction cooker unit is sure to make quick work of your cooking needs. Plus, its sleek design is sure to complement any kitchen décor.
This Decorelex DX518ICTP30 induction cooktop is a workhorse in the kitchen. With four different cooking zones, you can easily whip up a meal for the whole family. The two larger zones are perfect for boiling water or cooking stir-fries, while the smaller ones are great for simmering and heating up sauces.
This best induction cooktop is a high-quality, 240V induction cooktop that is perfect for any kitchen. With 9 different heat settings and an automatic shutoff feature, this cooktop is easy to use and helps you prepare your meals quickly and safely.
Do you love cooking, but hate having to clean up afterward? Well, with the Decorelex DX518ICTP30 30″ Induction cooktop, cleaning up is a breeze!
This top-of-the-line appliance is powered by induction technology, which means that it heats your pots and pans quickly and evenly – so you can spend less time cleaning and more time enjoying your delicious creations. Plus, the sleek black finish will add a touch of style to your kitchen. So don't wait any longer – order your Decorelex DX518ICTP30 induction hob today!
The most common sizes are the 24-inch induction cooktop, 30-inch induction cooktop and 36-inch induction cooktop. The 30-inch model is a perfect fit for a medium to small space near your wall oven. The versatile temperature settings are best used with cookware that is stainless steel, cast iron, or any ferrous metal. These induction heat cookware can be found at any home store, for example, Home Depot, Canadian Tire, Bed&Bath, Amazon, BestBuy, and many more!
The knob-less surface keeps the surface looking sleek, and a smooth top control panel
4 individual induction burner zones
On each burner, there are 9-cooking heat levels with Boost function
Each heating zone has an independent timer for 1 to 99 minutes
With a 2700W Boils water boost in 90 seconds, you will no longer have to worry about making dinner every day
This stovetop can adjust instantly from a powerful boil to a gentle simmer. It is cool to the touch, so spills will not burn off and less heat is lost in the cooking process. Residual heat and hot surface indicator to prevent any accidental burns.
This cooktop can adjust instantly from a powerful boil to a gentle simmer
Residual heat and hot surface indicator to prevent any accidental burns.
Delayed auto-shut-off function – Auto Shutoff timer adjustable up to 99 minutes
Special safety feature – Child lock
With a metal body and black glass-ceramic, this cooktop provides an elegant seamless design
The induction burners provide excellent heat distribution and automatic pan recognition to help cook evenly, delivering delicious, evenly cooked food like steaks and omelets.
7,400W power rating
1,400W / 1,800W – Front Right Zone Power Rating
1,800W / 2,600W – Front Left Zone Power Rating
2,400W / 3,700W – Rear Right Zone Power Rating
1,800W / 2,600W – Rear Left Zone Power Rating
240V/60Hz – Voltage rating